VIVEPORT First WAVE Developer Awards – The Winners List


VIVEPORT TM , HTC VIVE global VR store, hosted the first WAVE Developer Awards (WDA) ceremony through an online virtual conference application, VIVE Sessions – powered by Engage on June 23, and it was the world's first virtual award ceremony.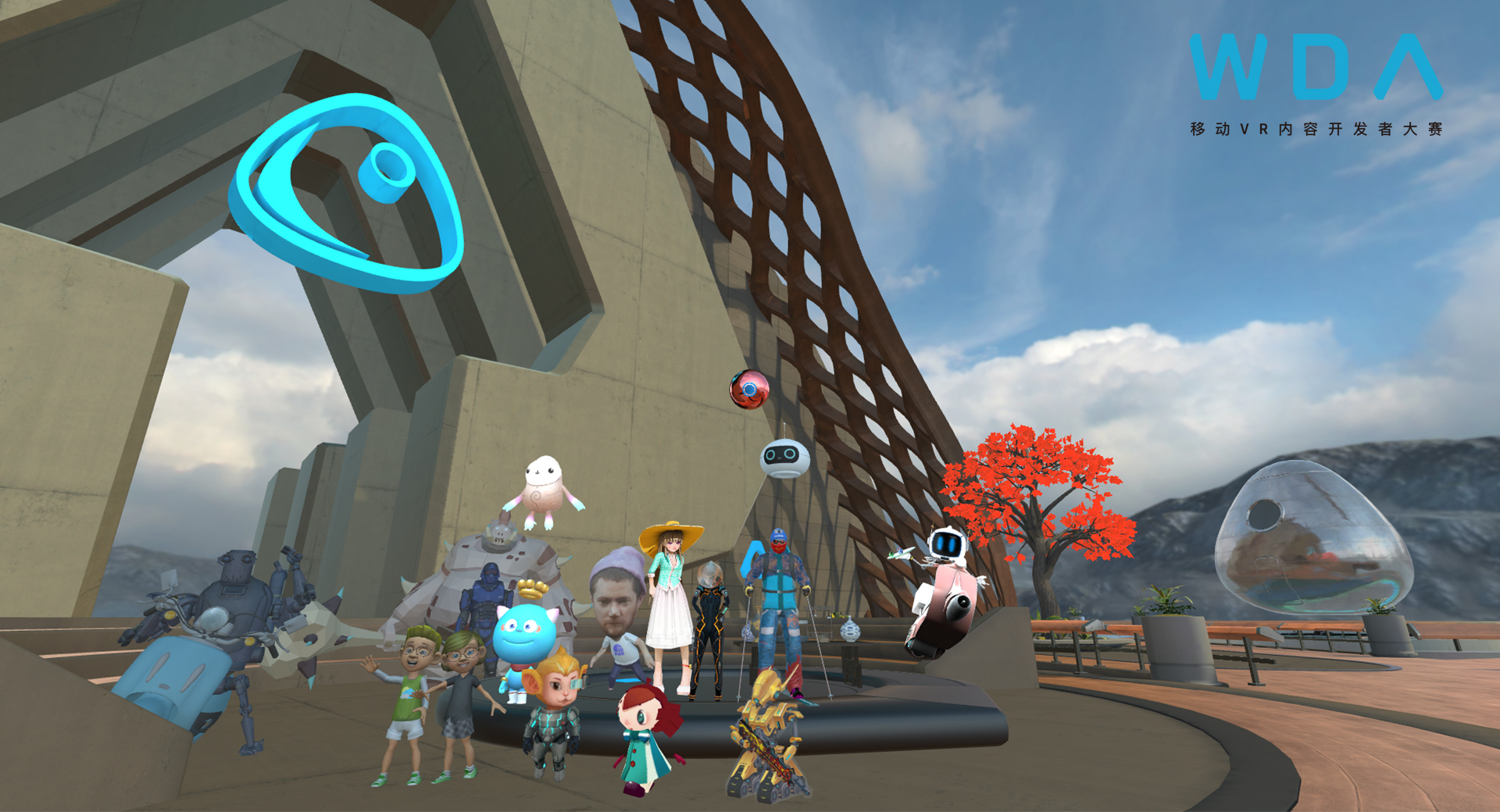 Since its launch in October last year, WDA had received active participation of developers worldwide. WDA has attracted 150+ global standalone VR content entries, covering games, applications, and videos, and each type of content account for about 30%. Among of them, 24 titles stood out from all the high-quality titles, from which the finally 8 gold award winners were selected and announced in the ceremony. The developers of the 24 WDA finalists won prizes worth a total value of CNY 1 million. Despite the effect of the epidemic, this WDA still attracted many excellent developers, including who publish content to VIVEPORT for the first time, as well as those who convert PC VR content into standalone VR for the first time.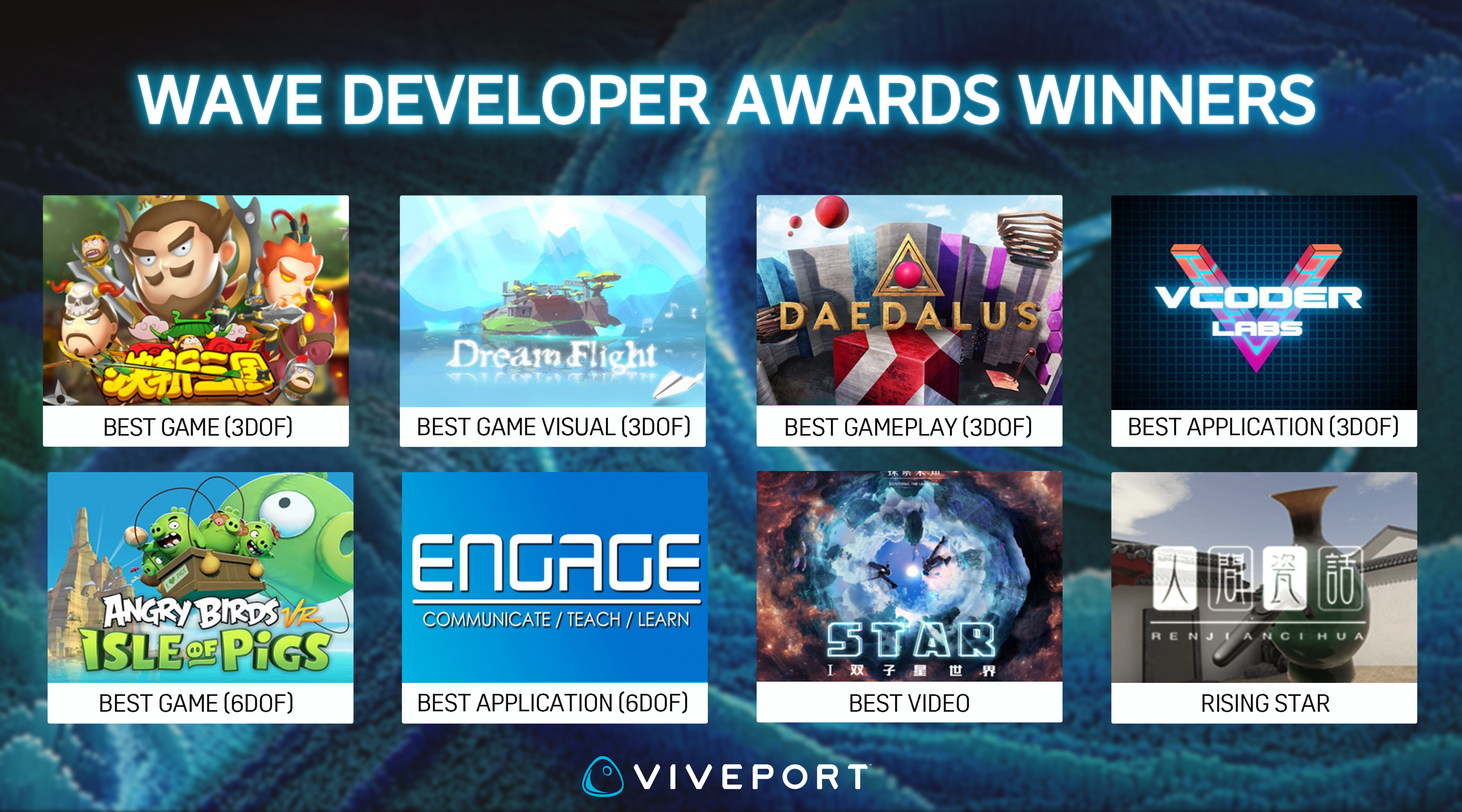 All the WDA entries have been published on VIVEPORT and added to the content library of VIVEPORT Infinity. Users can experience WDA award-winning titles on their VIVE WAVE ecosystem-supported VR device, including HTC VIVE, iQIYI QIYU VR, Pico, DPVR, Skyworth VR, Idealens and Shadow VR.
VIVEPORT is a multi-platform VR app store that is compatible with all the mainstream VR devices on the market, including PCVR and standalone VR. Through the VIVE WAVE ecosystem, VIVEPORT covers about 60% of users in China's standalone VR market. At the ceremony, VIVEPORT announced that it would continue to lead the development of the VR content ecosystem. While continuously expanding the standalone VR consumer market, it will work with the VIVE WAVE ecosystem's partners to actively explore the business market. Furthermore, it will cooperate with other hardware partners to provide services and solutions for business customers, and jointly promote the sustainable and stable long-term development of the VR industry.
Steve Wang, Vice President of VIVE WAVE ecosystem mentioned that, "The VIVE WAVE ecosystem has always pushed the cooperation among platforms, developers and hardware partners to achieve the concept of a win-win situation for all three parties. As operators are actively deploying 5G infrastructure, standalone VR experience will quickly benefit from the integration of 5G. As the industry leader, VIVE WAVE ecosystem will seize this opportunity to deepen the existing partnerships and also expand areas such as operators, mobile phone manufacturers, and so on."
The VIVE WAVE platform and Qualcomm reached an agreement to optimize the VIVE WAVE platform to support Qualcomm devices on the Snapdragon 855, Snapdragon 865, XR1 and XR2 chipsets. Through this cooperation, the hardware devices pre-installed with the VIVE WAVE runtime will be expanded from standalone VR devices to 5G smartphones. VIVE WAVE ecosystem will have the opportunity to continuously expand its influence, by providing further assistance to partners, and jointly promote the development of the standalone VR industry.
VIVEPORT is a comprehensive VR application store. In addition to consumer-oriented content such as games, videos, applications, and social media, it also has enterprise related content for business customers. The XR Suite announced by HTC VIVE on June 16 is a virtual cloud application suite for the business market, including five major applications, VIVE Sync, VIVE Sessions, VIVE Campus, VIVE Social, and VIVE Museum, which can meet the needs of enterprises in office, education, social, marketing and other scenarios. VIVE XR Suite will provide both free and paid service models. The VIVE XR Suite Lite supports all users to download for free, while the VIVE XR Suite Pro version can be purchased on VIVEPORT. In addition to XR Suite, VIVEPORT will also explore more solutions for the business market. Welcome developers and partners who are interested in business VR applications to submit on VIVEPORT in order to expand the XR industry to the world.
Moreover, for developers, HTC VIVE will also add more optional improvement solutions to the upcoming WAVE SDK to enhance users' safe experience, and more complete and friendly development tools and environments to accelerate the efficiency of content development. In the future, HTC VIVE will continue to provide richer and deeper software and hardware integration from the SDK level to enhance the immersive experience. In terms of interaction, exploration on eye-tracking, hand-tracking, and spatial audio will be continued. From the engine perspective, Unity XR's new architecture suite will be supported, providing more powerful development tools to help more real-time debugging information. And for function, the new Boundary System and Multiple VR Compositor Layer will be supported, allowing developers to have more room for content creation.
The standalone VR industry will usher in the period of a huge growth in the 5G era, which is a golden opportunity for all the developers. VIVEPORT will continuously enrich the development of standalone VR content, by joining hands with VIVE WAVE partners to continually expand standalone VR ecosystem, as well as bringing more opportunities for VR developers.
Stay tuned with VIVEPORT for further updates about the 2 nd WDA or you can reach us: wda@htc.com
About WDA: https://www.viveport.com/2020_wda_en?vp=1